ACTORS JUST HAVE TO COPE.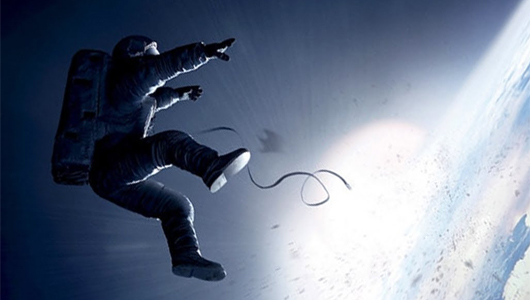 Whatever the director's vision the actor has to find a way to fit into the plan while still being truthful to the circumstances and the relationship.
"Gravity" is a beautifully choreographed film.
The director's vision is clearly focused on how to use the environment in an aesthetically pleasing and scientifically accurate way.  He achieves this goal brilliantly using light, space and movement of both the camera and the actors to achieve a mesmerizing result.
This is all achieved through a complex mix of animation, special effects and live action.  For the actors that might mean the production is both enormously restricted and hopefully, at times anyway, immensely free.   Here is an interesting variety of opportunity and challenge combine.
And as always the actors, need to cope with whatever enormous technical requirements are placed on them.
PERFORMANCE CENTRE STAGE
Then amidst all this brilliant technical achievement suddenly the director sets a simple frame and lets the shot run for a considerable length of time.  In doing so he sets the actor a task akin to working in theatre.  The goal is to occupy the space and be believable while carrying the story forward.  And that's what the audience watches – real time decisions and a real time performance.  It's amazing in the middle of all this technology the film suddenly becomes a performance piece.
It isn't very often in the cinema that we are provided with the opportunity to simply watch an actor at work without a director's interference.   It's an exhilarating experience.   The simple joys of viewing these delicious images alongside the honesty of Sandra Bullock's performance makes watching this film an enormously rewarding experience.
If you haven't seen it – get on down there.  This is a production worth seeing on a large cinema screen (I saw it at Imax which is a good choice for this movie).
STORY POWER
Despite its great strengths the majority of people who have seen this cinema event have lauded the film while grumbling about the story.
I think the weakness with the script is that in the end it doesn't have anything to say.  It is just a plot.  If it is trying to say something it's a very basic theme and its not well established from the start.
Still I was engaged all the way and I enjoyed it.  Maybe I'm getting old and cynical but I wasn't on the edge of my seat.  I do however think that was mostly related to the absence of story subtext.  I suspect that if that had been there and there had been a personal journey as well as a physical one I would have been really barracking for her.
(I watched this film with a special interest as elements of the special effects production have been produced around the world.  My son, Patrick, worked on one sequence delivered by Rising Sun in Adelaide and so I viewed that sequence as a proud dad.)