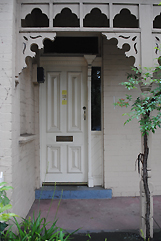 Dr WHO????
I'm not a fan.  I've watched 'Dr Who' over recent years and thoroughly enjoyed some of the episodes.  But I'm not dedicated to it.
I got out of bed this morning to give the 50th Anniversary episode a shot.  I had to be ready for a class by 9am so watching a one and a half hour show at this time of the day is not really practical.
BUT I COULDN'T STOP WATCHING!!!  The rest of the day just has to cope – hence the signs on the front door for the first class this morning.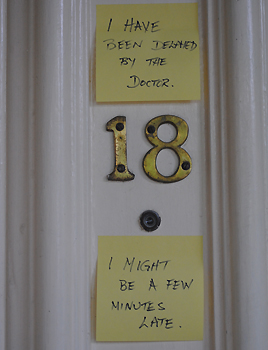 SIMPLY WATCHING THIS TELEVISION EVENT TO EXAMINE THE WRITER'S TASK OF HOW TO CREATE A SPECIAL ANNIVERSARY EPISODE IS FASCINATING IN ITSELF.
This episode is replayed tonight on ABC ONE – IT IS WELL WORTH CHECKING OUT FOR ANYONE INTERESTED IN STORY.  For actors who have done the "Delivering the Story Workshop" this is a text book perfect example.           
(Incidentally, the programme caused me to run very late and I didn't think I'd have time to get up the street to buy the bun for today's class. But as I rushed out the door my tardis arrived INSTANTLY in the form of a tram – I made it!!  Mission accomplished.  What fun.)