The first Audition Workshop for the year was a ripper.
Why was it so good?
Firstly, it was great because LYNNE RUTHVEN was fantastic at throwing out lots of big challenges to the actors.  And secondly it was even better than great because she focused on dealing with fundamental skills.
BEING ABLE TO CHANGE
The direction Lynne gave meant that every run any actor did of any scene was always different from the previous one.  Often the changes she was asking for were large.  If an actor offered a high status character she asked for a low status one and vice versa.  If an actor offered a charming and likeable character she asked for a darkly challenging version.
Training at The Rehearsal Room focuses on actors making big changes quickly.  It also focuses on trusting those choices and playing them boldly.  But despite that, actors were often caught out not being prepared to change … enough!!  And making big changes like that is not especially difficult.  But it became increasingly clear that if an actor had only prepared one version of the scene they were very limited in how much they could change.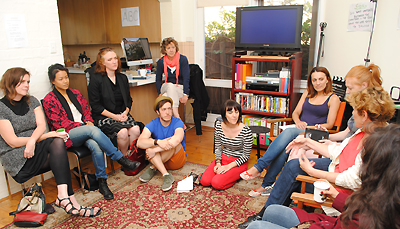 KEEPING IT SIMPLE
In answer to questions about how to make big changes Lynne's fairly constant suggestion was … "Keep it simple."  Echoing words that are constantly spoken in classes at The Rehearsal Room she qualified this remark by adding, "Simple things are easy to do.  Why do actors make it so complicated?"
A PRACTICAL FORMULA FOR CHANGE
The following suggestion was included in the email that was sent to actors attending the second session of this workshop  … 

"CONSIDER OPPOSITES:
A simple and enormously effective technique for making big changes is to make sure you consider the total opposite option of any choice you have made –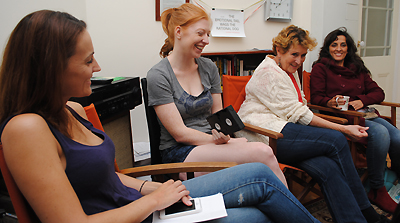 # if you decide the approach to your conversation goal should be 'supportive' then consider that it could also be 'abusive'
         # if you think you unconsciously want a person 'to love' you consider that you could alternatively want 'to blame' them
        
# if you are saying 'yes' consider it could mean 'no'
         # if you are convinced you should be shouting then maybe you could be whispering
         # if you feel the conversation goal is 'to challenge'  maybe it is 'to test'
… and so on.
Thinking about opposites should only take a few seconds but it then opens you up to ALL THE POSSIBILITIES THAT EXIST BETWEEN THOSE TWO EXTREMES.  It is a highly functional tool.
Why don't you have a think about that option when preparing your next gig or audition.
Keep listening.
Richard.
PS                  What is also plain … this workshop was LOTS of fun (Thanks Lynne.)