Did you know that labelling your character's 'Objective' the way it is taught in the Stanislavski tradition is NOT very effective.  Acting teachers DON'T tell you that!!  They keep that a secret!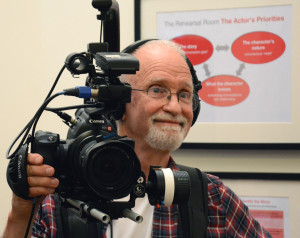 The Rehearsal Room's SECRET WEAPON is to not use 'Objectives' but to use 'Conversation Goals' instead.
"What's the difference!!!" you ask.
The difference is HUGE.  Actors are mostly very vague about explaining what a character's 'Objective' really is.  The definitions are very indistinct.  But we know A LOT about conversation.
When it comes to defining the 'Conversation' we can be MUCH more specific.  We can be MUCH more practical, too.  After all, it is something we consciously do all day every day, in life.
Think about this.
A conversation that is 'a test … to see if a seduction is possible' can still be conducted even if the only words that are actually spoken relate to which team won the footy.  You can still pursue a seduction while talking about the footy, can't you!!  It just depends on how you say it!!
And if that's the case there is NO POINT IN ANALYSING THE DIALOGUE.  (That's the second Best Kept Secret!!)
Don't analyse the dialogue … instead, analyze the circumstances and the relationship.
Here's how you can go about defining the 'Conversation Goal' using  The Rehearsal Room process.  It is a very effective technique. (CLICK HERE to download the pdf file that explains the process)
READ IT THROUGH A FEW TIMES TO MAKE SURE YOU UNDERSTAND IT … then …
Grab a scene from your files.  The scene should be …
Fairly short (1 minute or under)
A 2-hander (only two characters speak)
Preferable one you haven't done before
A scene where you clearly know the basic circumstances
TAKE IT ONE STEP FURTHER … ENTER YOUR DETAILS BELOW TO GAIN ACCESS TO A 'FREE' EXERCISE.
PRINT OUT page 2 of that document so you can fill in the details and TRY THE EXERCISE.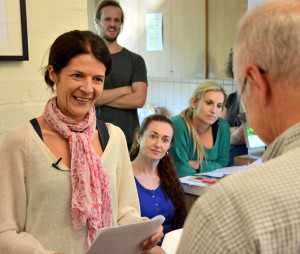 WANT TO LEARN MORE … Sign up for a class NOW!!  THE NEXT OPPORTUNITY ..
Introductory Workshop 9am – 1pm Sunday 22nd February … for more details
Advanced Workshop     2pm – 6pm Sunday 22nd February … for more details