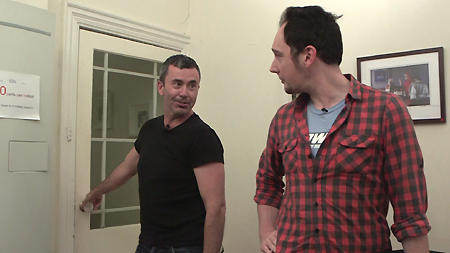 It was an OUTSTANDING NIGHT of memorable performances in Tuesday night's MASTER CLASS.
This excellent work was achieved from an interesting mix of very individual choices.
ADAM FORD has been working on a personal and philosophical goal to "surrender responsibility for the scene".  With that simple statement ADAM had articulated a significant problem for many actors.  Recognising this issue in himself ADAM has worked on absolving himself of the responsibility of making the scene great.  His progress has been plain.  But on Tuesday the outcome was amazing.  Involved in a hugely complicated, ethically challenging negotiations ADAM delivered a performance that was RICHLY COMPLEX, TOTALLY TRUSTED, ABSOLUTELY ENGAGING and THOROUGHLY BELIEVABLE.  Excellent work.

Over the last 3 weeks HAMISH McGREGOR has been working on not envisaging outcomes inspired by the writing.  His aim was to listen to what was "actually happening".  This week brought fabulous rewards for HAMISH because his levels of his TRUST, OPENNESS and THE SIMPLICITY OF HIS APPROACH.  He created a complicated Machiavellian character who possessed GREAT charm … and was totally and COMPLETELY BELIEVABLE.  A MASSIVE PERFORMANCE BREAK THROUGH.
When asked, "What was the key to this success?"  Hamish replied simply, "Teamwork."
HAMISH and ADAM worked together with HUGE LEVELS OF TRUST.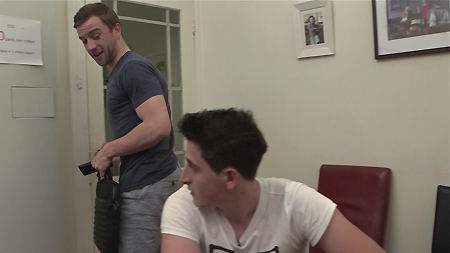 A week ago DANIEL DI GIOVANNI had experienced a drop in concentration levels.  His plan through the week had been to studiously work back over his notes to clarify his choices.  This week delivered a SERIOUS RETURN TO FORM.  DANIEL was COMFORTABLE, PURPOSEFUL and delivered a TRUSTED VARIETY OF CHOICES over a number of different takes.  His efforts have made plain the enormous value of The Rehearsal Room's core issues and the simple value of 'doing the work'.
JAMES PEACOCK has made quantum leaps forward in TRUST, CONFIDENCE and RELAXATION over the last two weeks.  The changes in the performance outcomes JAMES has achieved are massive.  His ability to take direction in a simple practical way has been impressive.  He has created two diversely different VERY COMPLEX characters in successive weeks with a beautiful SIMPLE and TRUSTED EASE.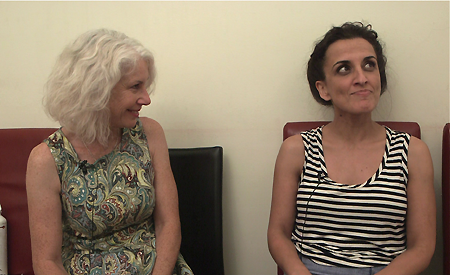 JOSETTE BRADLEY had made her goal for the night to 'relax'. "Because if you relax you can really listen," she explained, "If you listen you will hear what's really being said and then you are well equipped to respond appropriately."  JOSETTE was addressing the issue that the actor often takes on toooooooo many responsibilities and is therefore not relaxed enough to listen.
JOSETTE listened beautifully.  We knew that she had a clear agenda but chose to take a softly softly approach to achieving her 'Conversation Goal'.  A very CLEAR, COMPLEX and ENGAGING performance.

YASMIN BUSHBY was playing a scene where the back-story had very strong emotional connections.  YASMIN'S bold choice was to NOT let the emotional content of her circumstances take over the conversation.  YASMIN'S approach was to keep a strong 'Conversation Goal' to the fore.  The emotional pre-history added a RICH COMPLEXITY by generating momentary disruptions to her thought processes.  This unconventional approach brought a LIFELIKE COMPLEXITY and DRAMATIC UNPREDICTABILITY to the scene.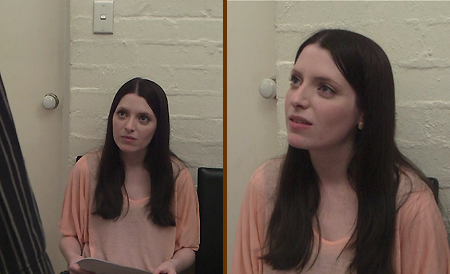 KAREN WILLIAMS worked on bringing herself to the character.  In this instance the character was entirely different to KAREN.  By taking that VERY SIMPLE APPROACH a remarkably POWERFUL PERFORMANCE unfolded creating a character that was INCREDIBLY DIFFERENT to expectations and TOTALLY BELIEVABLE.  Using her own understandings to make the decisions in a scene was a VERY POWERFUL TOOL.
What's the overall message from all these GREAT ACHIEVEMENTS.
It is very clear isn't it … SIMPLE IS BEST.