Actors from THE REHEARSAL ROOM explain what works for them about this approach to acting.  These very informative comments will help you decide whether this is the place  you want to be.
Actors who have been attending for years and some who are just starting out explore what they see is the REAL value of The Rehearsal Room classes.
CHECK IT OUT.  IT ONLY TAKES A MINUTE.
Find details about workshops HERE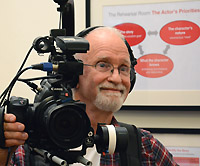 SUNDAY WORKSHOPS start this week.
Introductory Workshop 9am – 1pm from Sunday 22nd for 6 weeks. (For more details …)
Advanced Workshop 2pm – 6pm from Sunday 22nd for 6 weeks.  (For more details …)