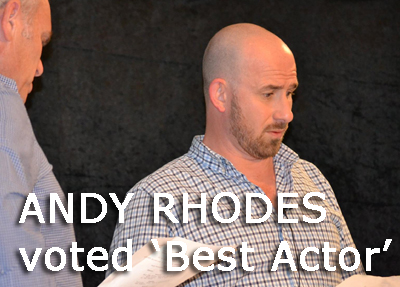 Andy Rhodes was 10 points clear of his nearest rival in the audience vote for Best Actor at The Rehearsal Room's first Acting SLAM.  What was his secret?
What were the key ingredients that proved to be so eye-catching?  The list is pretty simple.  He was relaxed and he trusted his skills.  He listened to what was actually being said and HE DIDN'T KNOW WHAT WAS GOING TO HAPPEN NEXT … SO, HE WAS CONSTANTLY SURPRISED.  Andy consistently played the BEST SURPRISES of any actor on that night.
Moments of surprise are the key.  Surprises drive the story forward and they generate a very credible believability.
Why were Andy's surprises so good?  A MAJOR factor was his ability to stay relaxed and trust his decisions.  If Andy didn't understand the actual meaning of what had been said to him he stayed with that confusion.  The decisions he made, about how to deal with his confusions, generated the humour in his scenes.  Take a leaf out of Andy's book.  The actor doesn't have to know what to do next.  It's the decisions you make as a result of the moments of surprise that make a performance real … AND ENTERTAINING.
For some more information about surprises check out "Surprises – Stanislavski got it RIGHT" 
The article "Isn't It Shocking" is examining much bigger surprises than the ones Andy had to play … it also may be of interest on another level. 
VIEW THE HIGHLIGHTS OF SLAM ONE HERE