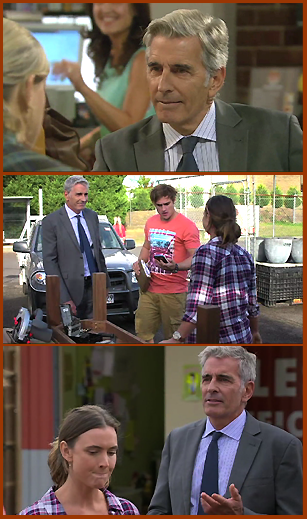 NEIGHBOURS GUEST ROLE
Rehearsal Room actor DAVID BERGIN has returned to the 10am Wednesday workshop with stories of his guest appearance on Neighbours earlier in the year.
"It moves very fast," he said. "But, I was ready for that." The rehearsal time for his studio scenes was about 10 minutes per scene (15 minutes at the most). The schedules are tight. "Essentially it's a read through, then you block the moves and that's it," he said. "The next time you do it is for the cameras."
David turned up for his location shoot believing he had no dialogue.   When the second assistant met him in the Greenroom he double-checked, explaining he hadn't been sent a script. But he DID HAVE LINES!! The script was handed to him immediately and he read it on the short walk to the location. He had the script for a maximum of five minutes before they were rehearsing and shooting.
You have to be able to work fast and stay calm when shooting TV. David was able to do that. He made simple choices. He is practiced at understanding his role in the story.  As a result he did a great job.
THE LESSON
There is something to be learnt from this experience. Don't wait until you get on set to ask for essential details. If you haven't received a script or a schedule a reasonable time before your shoot … pick up the phone and ask the production office to explain. They'll be happy to help.