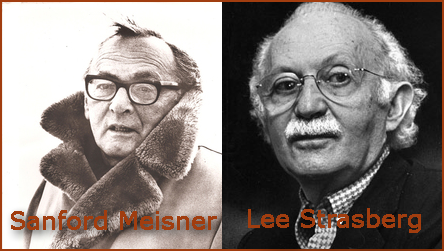 At various points through his book, "SANFORD MEISNER ON ACTING", Sandy Meisner snipes at Lee Strasberg and The Actors Studio. They've had different points of view about acting process since the Group Theatre days in the 1930's.
Whether Strasberg was a good actor or not isn't particularly relevant to whether he was a good teacher of actors, is it? Yet Meisner publishes his personal view of Strasberg … "He was a terrible actor."
The ongoing rivalry of personality and ideas makes me smile.
I wonder if Lee Strasberg thought Meisner was a 'terrible director' or 'a terrible teacher'.
I've just finished reading "SANFORD MEISNER ON ACTING" in preparation for my fourth article on how acting teachers train actors to deliver a story. The article on Meisner Technique will be published shortly.