IN JOB INTERVIEWS many actors use The Rehearsal Room approach to acting to guide their choices. What originally evolved as a sophisticated acting process is being used by many people in their daily routine. THIS DOESN'T MEAN THEY ARE ACTING their way through life – that would be disastrous. All it means is that they use this very logical approach to decision-making when organising daily tasks.  Obviously, these are tasks that will result in a conversation.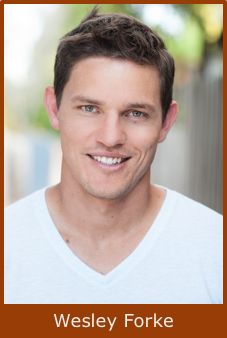 This week, WESLEY FORKE wrote to me –
"Rich… I got the job! I treated the whole interview process like an audition. The Rehearsal Room process can be applied in so many different aspects of life. Had my need, story definition and difficulty in place and smashed it! 18 other people went for it and the feedback I got was that I was in front by a long shot and that all panel members truly believed what I had to say. THANK YOU!"
What a wonderful and very satisfying achievement. There are many such stories. Regularly actors report that, "I GOT THE JOB" having used The Rehearsal Room process in their interviews. It steadies stress-related nerves because it establishes clear priorities.
Congratulations, Wesley.
ACTING ACHIEVEMENTS
Wesley has acting successes to his credit, too. He recently returned from London where he had the lead role in the Sci-Fi film "The Generator". Wes will be going back to London in January for its premier.
Wesley's performance in the lead role of the short film "Degree of Separation" is another triumph. It is an exquisitely balanced portrayal of a very complex character. The film is doing very well on the International Film Festival circuit – already with two Best Film awards.  Its success is significantly due to Wesley's exceptional performance.   Another job done well.

"Degree of Separation" was directed by Kyahl Anderson and Dale Mastin (The Cloud Foundry), written by Philip Claassen and produced by Darren Mort.